About lay summaries
Sharing knowledge with your peers through the publication of research findings in peer reviewed journals and other academic literature is critical for the progress of science. It is also important, at the same time, to acknowledge the value of communicating your work to the general public for the promotion of science. The problems scientists aim to solve are not limited to the laboratory but exist in the real world. 
Disease treatments and other innovations developed by scientists affect the entire community and are funded by taxpayers. However, many researchers overlook the importance of communicating the impact and potential of these scientific innovations to the public - who benefit from and often financially support this work.
Here we answer some frequently asked questions about lay summaries and address some key points worth considering if you want to write a good one.
What is a lay summary?
Lay summaries are brief descriptions of journal articles written for a general audience that emphasize the broad significance of your research. An effective lay summary uses plain language that is free of jargon. It clarifies the content of your research article, which is likely to be full of technical terms and concepts not easily understood by the average person. 
Research Square's Research Highlights are one type of lay summary for preprints. The following Research Highlight was developed to provide a clear explanation of a COVID-19 preprint. This plain language highlight helps minimize confusion and ensure a clearer understanding of the study. View the preprint here, and hover over the "View Research Highlight" button to view the lay summary (as shown below).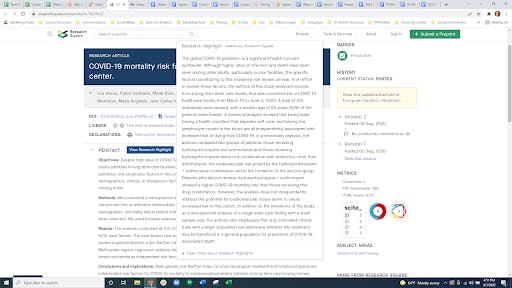 Why are lay summaries important?
Lay summaries are an opportunity to contextualize your research and communicate with interested non-specialists. Distilling your research into an easily accessible format can greatly benefit your interactions with society at large. 
Studies have shown strong associations between public communication, increased visibility of research, and greater numbers of citations (e.g., refs. 1 and 2). Lay summaries communicate your work in a way that the general public can more easily understand, which can increase the visibility, impact, and transparency of your research. 
In an era that has seen an unprecedented surge in scientific output, lay summaries broaden your readership beyond the scientific community. If you do clinical research, for example, lay summaries could help your work get more attention among health professionals who may use your research in practice - or patients, who might find your work relevant to their health.  
In addition to increasing the attention to your research, lay summaries can be useful in helping research participants understand their involvement in a study and its contributions. They can also help show your work's importance to funders and policy makers.

How to write a lay summary
A great lay summary of your research should aim to answer three core questions: what, how, and why. 
Answer the "what"
Begin the lay summary by answering the question "what". Introduce your work by laying out the main question you are trying to answer or problem you are trying to solve. 
When summarizing what your research is about, it's useful to readers to provide some context by briefly discussing what's already known from previous work and the outstanding questions your research aims to answer.
Describe the "how"
Once you've described the problem you're trying to solve, and provided some context, describe "how" you attempted to solve this problem. In plain language, describe the experiments you conducted and data you collected. 
Avoid using jargon and explain to your readers any technical terms that couldn't be omitted. When describing how your research was conducted, it's important to emphasize how your approach differs from what's already done. 
Now that you have clearly described to readers "what" problem you are trying to solve and "how" you aim to solve it, conclude the lay summary by answering "why" your research is interesting and important. 
Discuss the "why"
In answering the "why" of your research, establish the significance and value of your work by explaining how your research builds upon what is already known, what we've learned from it, and how it contributes to the broader discussion regarding this topic.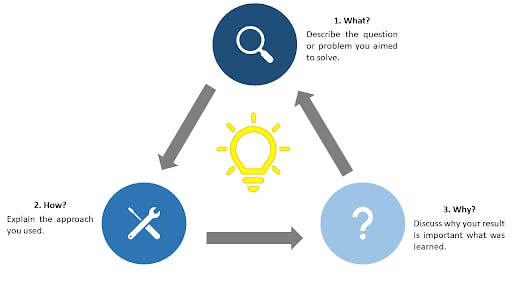 Summary
By distilling your research into an easily digestible format, lay summaries appeal to individuals outside of the scientific community and extend the reach of your work to a much broader audience. Sharing your work with the general public not only informs individuals of advancements in science, but it also promotes transparency, which helps build public trust. 
Need help writing lay summaries for your research? Visit our research promotion services page, which outlines our summary services for further information.
References
Thelwall M, Haustein S, Larivière V, Sugimoto CR (2013) Do altmetrics work? Twitter and ten other social web services. PLOS ONE 8(5):e64841
Liang X, et al. (2014) Building buzz: (Scientists) communicating science in new media environments. Journalism Mass Commun Q 91(4):772–791
For further reading:
Writing for Reproducibility: Crafting Your Methods Section
How to Write A Journal Cover Letter - Free Guide and Template
Building Trust in Information Through Standards and Best Practices
Guidelines for Reporting Statistical Methods and Results