Overview of confounding bias
When one variable creates the illusion of an association between a different variable and an outcome, this variable is considered a confounder because it distorts the true relationship between the studied variable and its outcome, leading to incorrect conclusions.
How to detect confounding bias
Consider the following scenarios:
Ice cream consumption increases the risk of shark attacks.
Pretzel consumption is associated with hepatic cirrhosis. 
Smokers who have undergone surgery for a hip fracture have a lower risk of mortality compared to non-smokers. 
These examples demonstrate confounding bias that occurs when an outcome is mistakenly attributed to one variable (A) when, in reality, variable (B) is responsible for the outcome. If an association between a risk factor/exposure (A) and an outcome (C) is discovered, confounding may provide an alternative explanation for the association if a third variable (B) is related to both (A) and (C).
Confounding makes correlational relationships appear as causative associations. This is a major issue in observational clinical research because confounding bias can lead to spurious conclusions. 
A variable may be a confounding variable if it has three characteristics:
The variable must be associated with the exposure/risk factor.
The variable must be associated with the outcome but independently of the exposure.
The variable cannot lie in the causal pathway between the exposure/risk factor and the outcome.
These characteristics are demonstrated in the following diagram: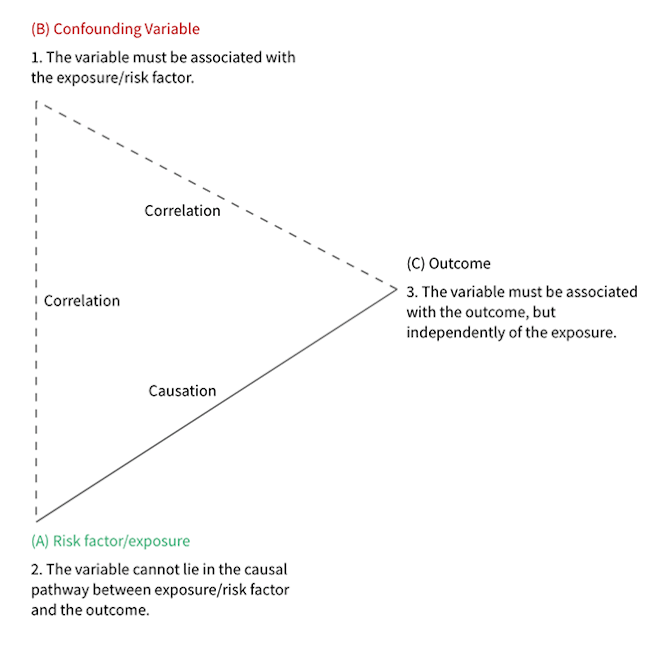 Why does eating ice cream appear to increase the risk of being attacked by sharks? Can sharks sense that humans bobbing around in the ocean have gobbled down tasty double-chocolate-chunk peanut butter ice cream and want seconds?
There's no evidence that sharks have heightened "ice cream sense"! However, in hot summer weather more people go to the beach and eat ice cream (A). More people at the beach and swimming in the ocean will inherently increase the risk of shark attacks (C). The hot summer weather is the confounding variable (B) that is correlated with - but does not determine - the outcome.
When the outcome is statistically adjusted for ice cream consumption, the association between ice cream consumption and shark attacks disappears. Hence, the correlational relationship between ice cream and shark attacks is confounded by hot weather.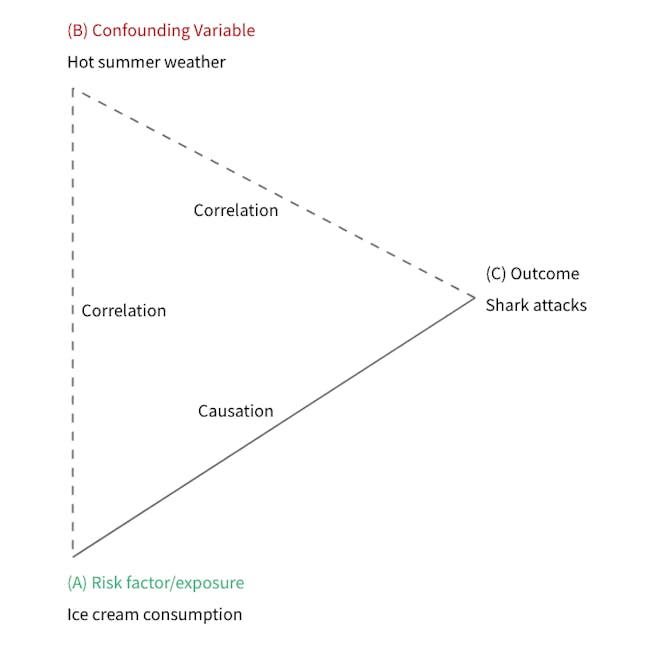 The confounding variable in the association between pretzel consumption and hepatic cirrhosis is beer consumption.
People tend to drink more beer and eat pretzels together. When the analysis is adjusted for beer consumption, the relationship between eating pretzels and hepatic cirrhosis disappears.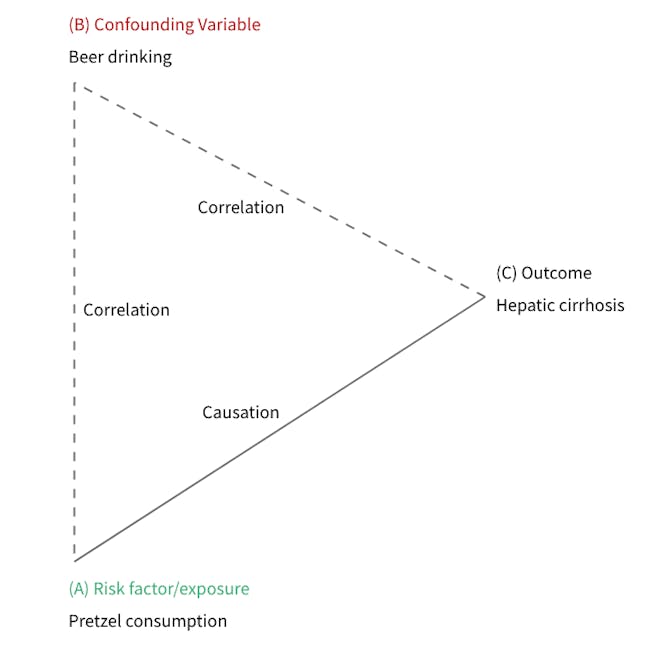 Smoking does not actually protect against mortality. Rather, hip fractures occur approximately nine years earlier in smokers than non-smokers. After adjusting for age, there is no evidence of a difference in mortality between the smokers and non-smokers.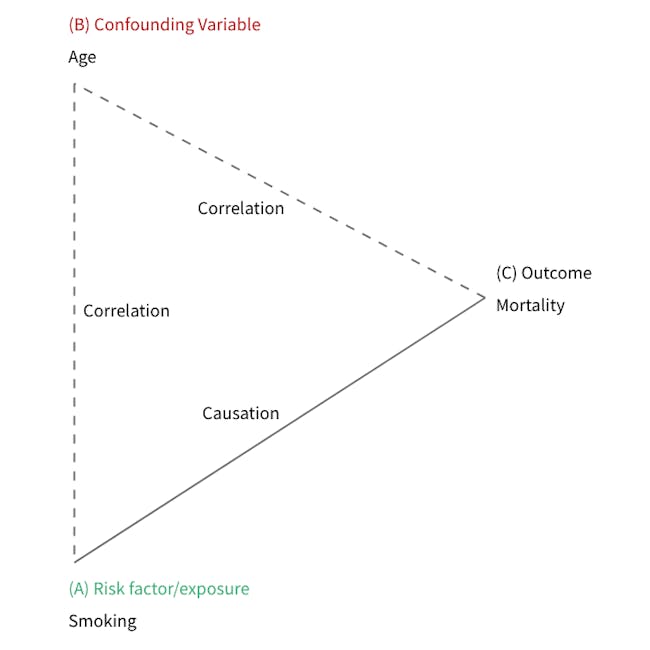 Confounding can be misleading or even dangerous. If associations are falsely attributed to one variable over another, the results may be under or overestimated.
When outcomes are misrepresented, clinical decisions and recommendations will be biased and potentially inappropriate. Being mindful of possible confounders sharpens your ability to recognize potentially biased relationships and to think critically about associations that seem valid at first glance.
 Discover more Explainers and other Reader Resources on the Research Square Blog.