What are preprints?
Most researchers can't share their work until after it's been published in a journal, which can take months or even years. Preprints offer a rapid and evolving solution.
A preprint is a full and complete draft of a research manuscript that you upload and share to a public repository (preprint server) before formal peer review.
Most preprints are given a digital object identifier (DOI) so they can be cited in other research papers. The DOI provides a "public timestamp" that establishes the primacy of your work. In other words, these are your ideas and you acquire valid proof quickly.
In this way, you can post your manuscript online and get critical feedback to validate, challenge, and ultimately improve your work.
Researchers are increasingly using preprints. And publishers are increasingly accepting them. Especially with the advent of COVID-19, the need to expedite research and get it into the community has grown incrementally. Preprint servers became deluged with COVID-related articles and new ideas emerged rapidly. Some were shot down, while others progressed.
Here we look back on how we got here, and why preprints are changing the publishing world – mostly for the better.
A brief history of preprints
Preprints aren't new. In fact, they've been circulating in physics circles since the 1940s – much of that time in paper form – to communicate the latest scientific knowledge.
1st revolution
The first revolution for preprint distribution came in the 1960s, when the Stanford (University) Linear Accelerator Center (SLAC) began printing and circulating the latest preprints in its SPIRES-HEP database to a worldwide network of members via distribution lists.  
2nd revolution
The second revolution for preprints came in 1978 with the arrival of LaTeX Source Document files. Through these .TeX files, preprints could be electronically produced and distributed across early versions of the internet.
These files, which combined plain text with symbols and mathematical expressions, could eventually be shared via email and then rendered and printed at their destination.
3rd revolution
The third revolution for preprints came in 1991, when Cornell physicist Paul Ginsparg launched arXiv, the first modern-day preprint server. For the first time, researchers could upload, search, and retrieve preprints in one central online location. 
arXiv revolutionized research communication by making preliminary research papers widely discoverable. Through this platform, researchers could also review and comment on preprints. arXiv also helped introduce the concept of open-access research and open publication.
This open-access movement for research has gained much traction in recent years. 
Leading preprint servers 
There are now more than 60 preprint platforms, and the number is continually growing. Most preprint servers were launched within the last 10 years, but the oldest, arXiv, is over 30 years old.
These are the more robust and successful preprint servers, their launch dates, and their owners and aims.
Visit ASAPbio's preprint server directory for a more comprehensive list and descriptions of preprint servers.
How is preprinting different from traditional journal articles?
Timing of release, methods of review, accessibility, and other factors help define the differences between preprints and conventional publication in journals.
Posting vs. publishing
Preprints are typically "posted", or "prepublished", for public view before peer review begins.
Traditional journal articles are only considered published after they're peer reviewed and shared with readers in a journal. 
Assignment of DOIs before publication vs. after publication
Most preprint servers accept and post manuscripts within one week of submission, and sometimes immediately. All of these preprinted manuscripts are time-stamped using digital object identifiers, or DOIs, managed through infrastructure providers like Crossref.
Through these DOIs, preprints are made a citable part of the official scholarly public record: the same benefit you'll get by publishing in a journal.
For traditional journal articles, the peer review process can take months, or even years. The author receives credit for their work through DOIs when these articles are published in journals. 
Peer review vs. community review 
Traditional academic journals go through peer review. In this process you submit your manuscript to a journal editor. If it passes their approval, it's then sent  for one or more academic peers to check it.
Peer reviewers typically are experts in the manuscript's subject. They judge whether the manuscript should be accepted for publication, sent back for minor or major revisions, or rejected.
This peer review process has been considered the gold standard for ensuring quality in publication for more than three centuries. But  a journal's peer review and endorsement aren't the only elements of credibility that a paper might have. Peer review also has its shortcomings. 
Preprints are often posted to generate commentary from other scientists in the field. The comments can be either on the preprint server itself, on dedicated preprint review platforms, or on social media. Community reviews like the following can contribute important context and call out the strengths and weaknesses of the paper. Click here to view the full preprint connected to the community review below.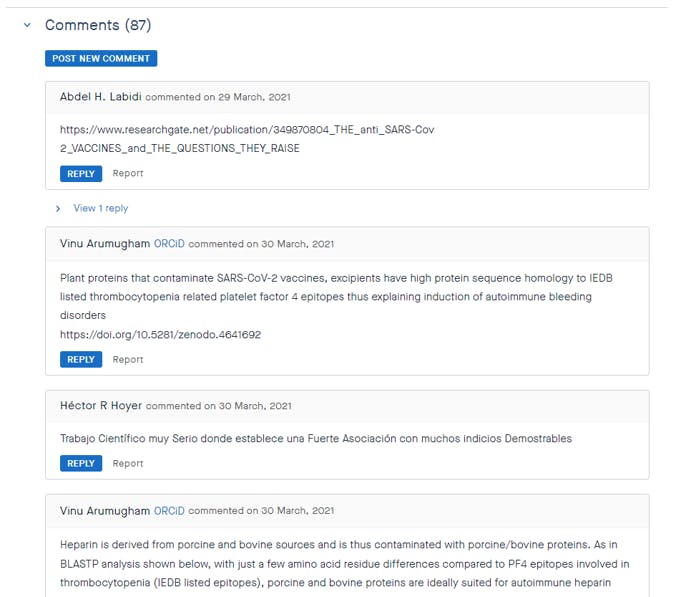 Advantages of preprints
Preprints and preprinting offer several benefits to authors, plus any others who read them, including:
Early citations: The ability to establish credit before publication in journals through DOIs, which allow other researchers to cite preprints even before publication in a peer reviewed journal.
Feedback before submission: Preprint servers let you publicly post your manuscript and via social media invite others to review it. Colleagues in science and research can review or comment publicly on the server or more privately via email.
Visibility and transparency: Preprints are fully open access and discoverable by anyone. As such, preprint servers are excellent venues for exposing researchers who steal others' work, as well as predatory publishers. 
Rapid communication of research: Preprints are posted within days, as opposed to the four-month average wait for publication in peer reviewed journals.
A critical step in building trust, with clear advantages
Research Square Editor in Chief Michele Avissar-Whiting outlined how preprint reviews are a critical step toward building trust, transparency, and speed in scholarly communication. View the video here:
There are five clear reasons to share your work early on a preprint platform.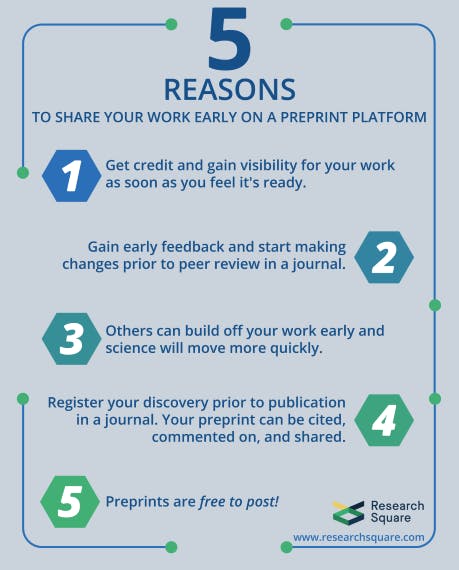 Limitations of preprints
While preprints have many positive facets to them, they also have their limitations:
Preprinted articles haven't undergone the scrutiny of traditional peer review. 
Multiple versions of the same preprint can be created as they're improved. Some viewers may mistake an older version of a preprint for the current version.
Preprints may be mistaken for peer-reviewed papers, especially by those who aren't trained scientists, such as the general media. This could help foster the spread of misinformation.
Useful links and resources on preprints
Learn more about the Research Square preprint platform and its associated tools and services. 
Also read
Opinion: Making Research Faster, Fairer, and More Useful Through Preprints
Preprints in the World of Grant Funding
Putting Preprints into Context
Protocol Highlight: Modeling Gastrulation in Human Embryonic Development