The key advantages of publishing your research as a preprint are:
Near-instant credit for your research
Early citations
Broader feedback before submission
Visibility
Transparency, and…
Speed!
Preprints are changing how research is disseminated and reviewed. Let's look at why preprinting is an option you should definitely look into. 
The rising importance of preprints
Publication in peer-reviewed journals is synonymous with progress in your research career, but long wait times between a manuscript's submission and actual publication can really slow things down.
Rejections, resubmissions, and revisions across multiple reviewers only lengthen that time. 
Peer review is still a vital part of the research publication cycle, but preprinting in many ways adds to and improves on it. These are five key ways preprinting can be an advantage for your research career and for your scientific field.
Preprints allow you to claim credit for your work before publication
If you're new to preprints, you may wonder how it's even possible to claim credit (primacy) before being published in a journal. So how is this possible?
Preprints are assigned a digital object identifier (DOI) through Crossref. This is the same nonprofit information standards organization that has been assigning DOIs to most new (and some old) articles published in traditional online scientific journals since 1997. 
DOIs are a string of numbers, letters, and symbols that uniquely identify a document. All DOIs are time stamped when the associated document is published or posted on a credible scholarly site, like an online journal. This combination of DOIs and their timestamp is how authors can establish the primacy of their work in traditional online journals. 
You can see the newly assigned DOI in this preprint, establishing primacy even before peer review is completed.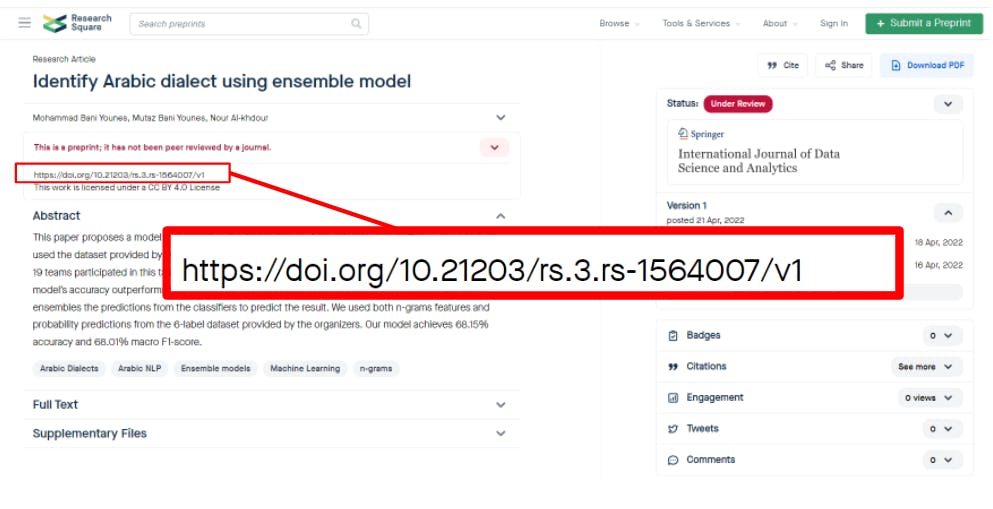 So how do preprints apply to this? Crossref began assigning DOIs to preprints in 2016. Ever since then, any researcher posting a preprint to a Crossref-registered preprint server can establish the primacy of their work.
In most cases, preprints are posted online within one to 3 business days after a screening process. And that research can be posted before the peer review process even begins. 
Most credible preprint servers screen preprints before they're posted. At Research Square, an editorial team screens preprints for "appropriate ethics and consent statements; disclosure of competing interests; absence of patient identifiers; and inappropriate, alarming, highly controversial, or pseudoscientific claims."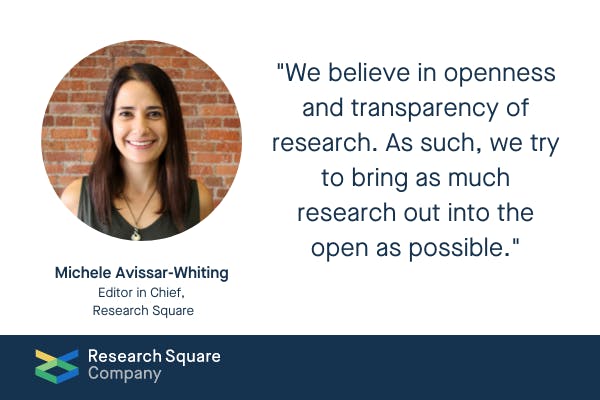 Some preprints might require additional scrutiny, particularly those containing results that might be construed as controversial. In these cases, screeners forward them to Michele Avissar-Whiting, Research Square's Editor in Chief (EIC) for a closer review. 
At this point, the EIC may decide to accept the paper, reject it, or accept it with the condition that additional notes be added to minimize misinterpretation of the research. For the latter, our EIC works with the preprint authors to develop easy-to-understand notes explaining the research and/or results.  
"We believe in openness and transparency of research. As such, we try to bring as much research out into the open as possible," says Avissar-Whiting. 
Preprints are established
Preprint servers have become a step in the research publication process in the physics, statistics, and computer science disciplines over the past several decades. The COVID-19 pandemic established preprints as a credible way to speed the pace of research. Since then, there has been an explosion of preprints posted on preprint servers, especially across the life and social sciences. Avissar-Whiting explains:
Video: The Growth of Preprints
Preprints can be cited, even before peer review and publication
Preprints are easily citable thanks to DOIs. And by being fully open access, preprints are also highly visible. Anyone with a browser can read them. They can also be freely shared through social media, the news, and other channels. This is excellent for citability. 
A study by bibliometrics researcher Nicholas Fraser in Nature Index suggests that preprints do, in fact, boost citations for at least three years after publication. 
Another study in JAMA (the Journal of the American Medical Association) tracked notable rises in citations and Altmetric scores when authors first posted their work as preprints. Preprints have also led to major increases in Altmetric attention scores and citations for the final published paper – nearly a threefold increase.
The more places your peers, media, and the greater public can discover you, the more attention your research is likely to get.
Preprints are an accessible form of research communication 
Preprints can help level the playing field for researchers across the world. Some researchers, like those in developing nations, can't afford to have their research published in open-access journals that can charge thousands of dollars. 
Article processing charges (APCs) to publish in a Nature journal can exceed $10,000 per article for gold open access. APCs for PLOS journals can range from $800 to over $5,000. That said, some journals do waive or reduce their page charges for researchers who meet specific criteria. These would include researchers in developing nations. 
Preprints, which offer the same accessibility as gold open-access articles, help researchers like these share their findings freely with the broader research community - at no cost. And thanks to the assigned DOI, this research is also completely citable.
Learn more about the various types of submission and publication fees through AJE.
Preprints foster collaboration and feedback before peer review
In the traditional system, a submitted manuscript receives feedback from 2 or 3 peer reviewers before publication. With a preprint, other researchers can discover your work sooner, potentially point out critical flaws or errors, suggest new studies or data that strengthen your argument, or even recommend a collaboration. All these things could lead to publication in a more prestigious journal.
The feedback can be provided publicly through commenting, or privately through email. Here's one scientist's story about the benefit of sharing his work as a preprint:
Consider this author's journey toward acceptance of preprints. By posting a preprint, he was able to share his research 10 months earlier, and it was viewed more than 1,500 times in just 2 months. "To all researchers out there, I encourage you to stop worrying and love the preprint. Submit your manuscripts, but also read preprints and make comments."
Preprints promote visibility and transparency, discouraging bad actors
Preprint servers make research fully open, discoverable, and viewable for literally anyone with an internet connection to see. Because of this, preprints are an excellent venue for exposing bad individual actors, such as those who plagiarize, as well as predatory publishers. 
When you send your manuscript for review in a traditional peer-reviewed journal, you submit it privately. It's also viewed privately and, if it passes the initial screening, is routed to peer reviewers in your field. Normally, they simply review your paper and deem it worthy (or not) for publication in that journal. And they request revisions where they deem them necessary.
If accepted, the work is undeniably tied to you and your co-authors upon publication. If rejected, the journal releases it. So then you might consider another journal for submission.
But what if a reviewer plagiarizes your paper or steals some of your figures for their own benefit during this peer-review process, for example? It's easier for bad actors to get away with such behavior under the cover of closed peer reviews and closed-access publishing. Preprints can also play a role in exposing paper mills and predatory journals. 
Preprints shine a strong light on these and other forms of misconduct, as illustrated by Research Square's Editor in Chief, Michele Avissar-Whiting.
Preprints communicate research more rapidly
A major advantage of preprints is their ability to communicate research quickly. The average total duration of peer review is 4 months. Preprinting allows authors to release their findings almost immediately (in as little as a day or two), and reach interested audiences faster. 
Especially in the earlier stage of the COVID-19 pandemic, preprints literally saved lives. They did this by shortening the delays between research discovery and research dissemination. Data could be presented rapidly, critiqued rapidly, and then built on. Open science truly shined.
Sharing COVID-related research before the peer-review process enabled impressively rapid development of vaccines, more informed and research-based public health guidelines, and better treatment practices in hospitals.
But preprints do have some limitations
Among all the benefits and advantages preprints offer, there are still some limitations. For example, they're not formally peer-reviewed, nor are they tied to impact factors.  Read Overcome Your Concerns about the Limitations of Preprints" for more about this. Most of these concerns are misunderstood or unwarranted.
Final thoughts
Planning to submit a research manuscript soon? Learn more about the benefits of preprinting on our Research Square preprint platform, as well as our presubmission tools and services. Ready to submit a preprint today? Start your preprint submission process here.
Read more
Preprints in the World of Grant Funding
Preprints and Research Methodology
Evidence-based Medicine, Meet the Preprint