Remember that period during February and March of 2020 when days began to feel like weeks and weeks began to feel like months? Each day, there was new information emerging about a mysterious respiratory virus, and each week, our world seemed to transform unrecognizably from the previous one. The pandemic would come to disrupt and overtake every aspect of human life around the globe. For many working in biomedical science – or adjacent to it – this would become the primary focus of our work as well.
In early February, papers about the novel coronavirus, SARS-CoV-2, started flooding into Research Square, and it began to occur to us that platforms like ours - those that host preliminary research manuscripts called preprints - might become more visible in the coming months. We could not have anticipated just how dramatically this notion would play out. Indeed, preprints would become central to the process of communicating nascent findings about the virus.
As countries went into lockdown and businesses ground to a halt, many scientists abandoned their own research in favor of investigating the problem. As quickly as answers could be produced, they were getting submitted - in vast quantities - to preprint servers. The adage "Publish or Perish" suddenly took on a starkly literal character. The name of the game now was speed and maximum visibility, and preprinting offers both at no cost to authors. Critics of the trend have warned that unleashing non-peer-reviewed science on the world would create more problems than it solves, but on the backdrop of a deadly pandemic, the delays associated with traditional publishing have become unthinkable and the promise of collaborating on the problem in near real-time, imperative.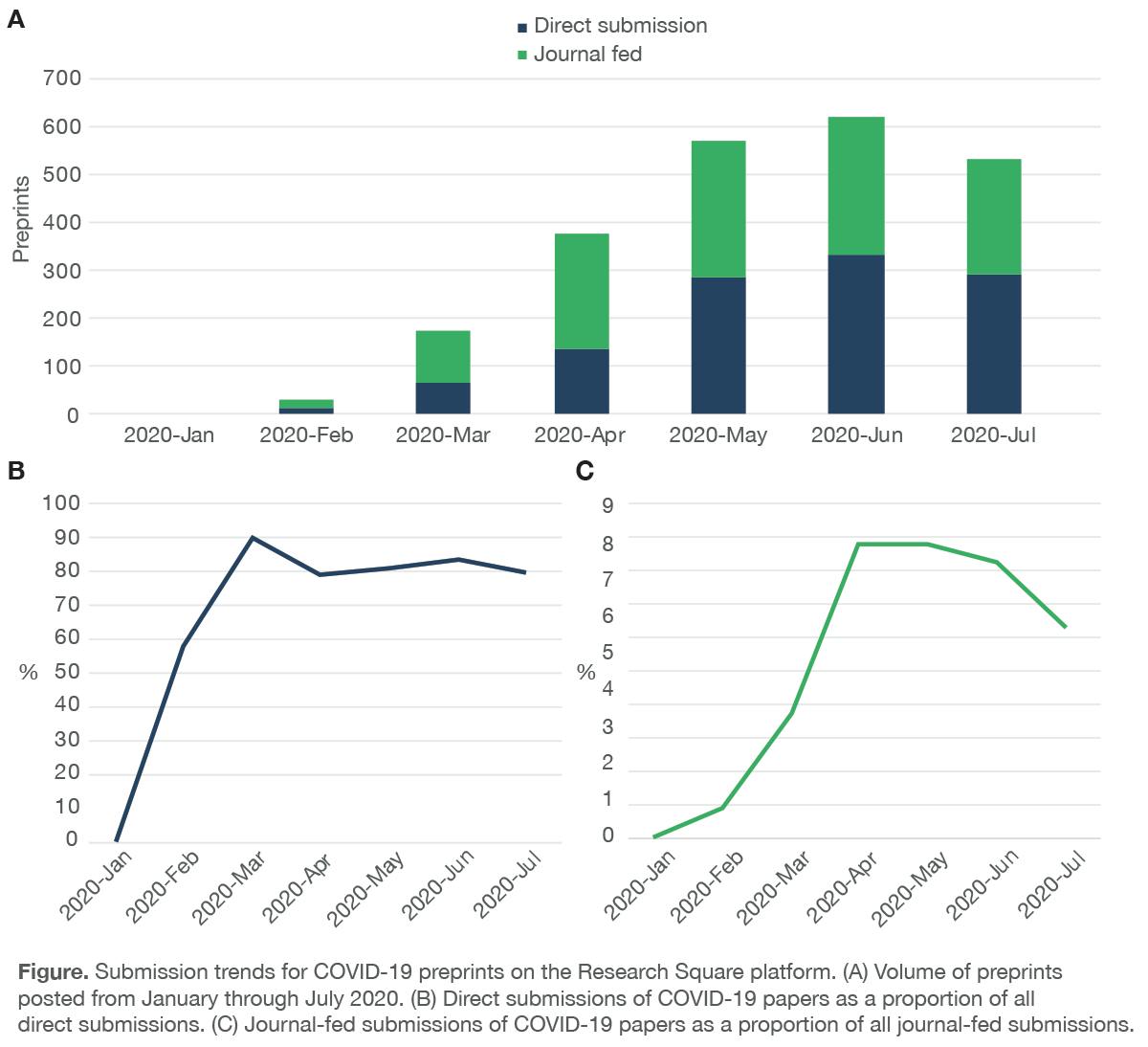 By March 2020, a deluge of research was being submitted to all of the major preprint servers, a phenomenon no doubt helped along by the endorsement of preprinting by prominent publishers. According to NIH's COVID-19 portfolio, 32% of all papers related to the pandemic have been preprints, a statistic as novel to biomedical science as the virus itself. Beginning early February, our platform saw COVID-19 papers from our In Review service via Springer Nature as well as through direct submissions (Fig A). The change in the latter route was the most conspicuous, undergoing an exponential increase from February through May. During this time, 80-90% of all of the papers being submitted directly to our platform and 7-8% of those being submitted via journals was COVID-19 related (Fig B and C). 
ASAPbio, which has diligently followed and reported on the synchronous growth of COVID-19 and preprints, released their own preprint in May that unveiled some startling data on the trend: the uptake of the medium by journalists, their usage statistics, and the relative terseness of COVID-19 articles. The authors made a bold prediction that the pandemic has ushered in an irreversible change in the way that researchers share their findings with the world. Early indications from our own data do suggest that preprinting is gaining traction among scientists across the disciplinary spectrum. How lasting this effect will be remains to be seen.
Read the latest preprints about COVID-19 at https://www.researchsquare.com/coronavirus.